A new sports facility improving the health and well-being of local residents in County Clare.
Clarisford Park is a 30 acre community park in County Clare and is the brainchild of international rugby player Keith Wood.
The Park is modelled on a municipal approach to sport and recreation whereby all clubs and groups can utilise facilities and the park acts as a community resource for health & wellbeing.
We were elated to provide funding to enable the construction of this new facility that incorporates playing pitches, intergenerational sports hall, dressing rooms, walking trail, athletics running track and training facilities in additional to a large expanse of open parkland.

"Community Finance have been instrumental in this partnership approach as a conduit for funding new development, in particular assisting with a loan for our 200m athletics track and training facilities installed in 2020/21."
Caroline Madden, Director of Legacy Projects, Ballina Killaloe Sports Community Facilities Development CLG

Bantry Rural Transport t/a Local Link Cork
Connecting communities throughout West Cork.
Bantry Rural Transport Partnership CLG operates vital transport links for rural communities in West Cork. As well as providing rural transport, the group also support a number of community organisations with their transport requirements as well as responding to providing accessible transport requests.
We were delighted to be able to assist in enabling Bantry Rural Transport to connect isolated communities who otherwise would be cut off from essential facilities and services.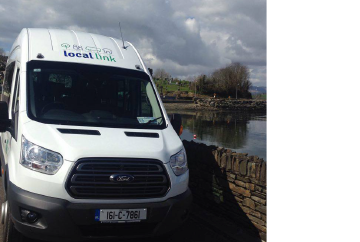 "Community Finance Ireland's level of engagement and understanding from the beginning was impressive and professional. They outlined the process and what would be required of us. Our relationship with Community Finance was positive and engaging throughout from the initial loan application to the drawdown and the clarity on the terms of the loan, repayments, responsibilities etc.
Community Finance are entitled to have the term 'Community' in their name and we are extremely grateful for the help and support they provided us."
David O'Brien, General Manager, Bantry Rural Transport Partnership CLG.